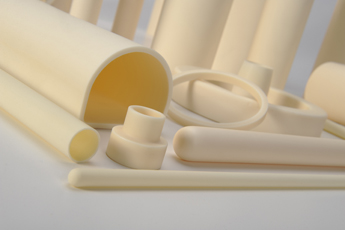 Alumina (Al2O3) is a hard, chemically resistant material and has the ability to withstand very high temperatures in aggressive environments. McDanel offers Alumina with various purity levels, including 99.8% and 99.0%. The level of purity, grain size, and density required is dependent on the rigors of the application and the component configuration.
Standard McDanel Alumina products include various tubes, rods, crucibles, boats, trays, dishes, and discs that are available for purchase online. We also have significant capabilities for producing custom engineered Alumina products. Give us a call at a location near you, or fill out our Request for Quote form, so one of our experienced engineers can assist you in the material selection and design of your advanced ceramic component.
Grades
998 99.8% Alumina can be used at operating temperatures to 1750°C in both oxidizing and reducing atmospheres. Tubes have been evacuated to 10-7 Torr at 1500°C. 99.8% proves inert to hydrogen, carbon and refractory metals in many severe situations. AP35 99.0% Alumina is a high purity body designed for the extrusion manufacturing process. It offers good insulating characteristics and high temperature capabilities. Pharmalox® Material is a high purity alumina ceramic (<99.7% AL203) specially designed for filling and dosing pumps. This material is inert, non-cytotoxic with high wear resistance.
*Other materials may be available upon review. Please call with your application requirements.
Typical Uses
Noble metal thermocouple protection, furnace tubes, high temperature vacuum furnaces, heat treating furnace rollers, radiant tubes, laser tubes, corona treater tubes and ozone generators.
Corrosive environments and electrical insulation applications. Noble metal thermocouples and diffusion furnace profile couples, laser wave guides and RTD's.
Solutions for the pharmaceutical, food and cosmetic industries with a focus on filling, dosing and control applications.