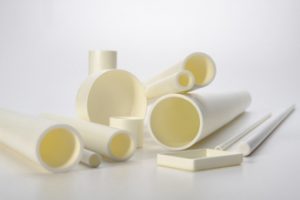 Zirconia (ZrO2) is an extremely refractory material. It possesses excellent chemical inertness and corrosion resistance at temperatures well above the melting point of alumina. McDanel Zirconia is fully stabilized in the cubic crystal structure to avoid cracking and mechanical weakening during thermal cycling. In addition to its high temperature capability, Zirconia offers low thermal conductivity and is electrically conductive above 800ºC. Also has the unique ability to allow oxygen ions to move freely through the crystal structure above 600ºC.
Standard McDanel Zirconia products include various single bore tubes that are available for purchase online. We also have significant capabilities for producing custom engineered Zirconia products. Give us a call at a location near you, or fill out our Request for Quote form, so one of our experienced engineers can assist you in the material selection and design of your advanced ceramic component.
Grades
Z105 is a fine grained, high density, cubic crystal, yttria (10.5%) fully stabilized Zirconia. It is an excellent general purpose Zirconia.
Pharmazirc® material is a high purity yttria stabilized zirconia ceramic specially designed for filling and dosing pumps. This material offers good corrosion resistance to NaOH and HCl, high wear resistance and a low friction coefficient.
Typical Uses
Oxygen sensors, thermocouple protection tubes, furnace muffles, liners, crucibles, high temperature heating element support.
Solutions for the pharmaceutical, food and cosmetic industries with a focus on filling, dosing and control applications
Data Sheets and SDS
McDanel Online Standard Catalog – PURCHASE NOW